SSL Certificates
Secure your site and add trust & confidence for your visitors
Choose your level of validation
Domain Validation (DV)

Basic Security
Issued in minutes, ideal for blogs, social media & personal websites
Buy
Organization Validation (OV)

Strong business level SSL
Company identity included in certificate, ideal for business websites
Buy
Extended Validation (EV)

Maximum Protection & Trust
Green address bar & company name displayed, ideal for ecommerce
Buy
What is SSL?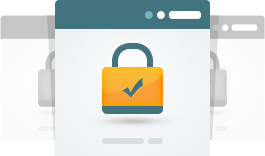 SSL Certificates are fundamental to internet security. They are used to establish an encrypted connection and allow data to be transmitted securely between a browser or user's computer and a server or website.
Establishes a secure connection between a browser and a server
Encrypts communication to protect sensitive information your customers provide to you
Places a padlock next to your web address in the browser
Authenticates an organization's identity
Standard SSL (Domain Validated) Certificates are the easiest and most common type of SSL certificate. OV and EV Certificates also authenticate the identity of the company or organization that holds the certificate providing more trust to end users.
Improve Your Search Engine Ranking
Establish trust and online security for your website visitors and business.
Google wants to make the web safer and a big part of that involves making sure that the sites people access via Google are secure. That's why websites using SSL have been shown to benefit from higher ranking in search results.
There's also a lot more reasons why you should consider adding SSL to your website:
Encrypt sensitive data
Protect user privacy
Secure online transactions
Activate HTTPS and the lock icon
Prove legitimacy
Increase SEO rank
Browsers have changed, don't get left behind

Web pages not served via HTTPS are now being displayed as 'not secure' in
Google Chrome
and
Mozilla Firefox
. Don't let your website be one of them. Add SSL today.
Upgrade with us and get up to an additional 12 months free.
Learn more »
Upgrade to Extended Validation SSL
While all SSL certificates use similar methods to protect and validate your data, the level of trust and assertion they provide varies.
Extended Validation Certificates offer the highest level of validation and trust. They validate and display the name of the company or organisation along with the green address bar which is one of the most highly recognizable trust indicators on the web.
RapidSSL

Os Certificados RapidSSL® ajudam você a manter as transações de seus clientes seguras com criptografia de dados de até 256 bits e autenticação de site. Compre um certificado e obtenha velocidade através da inscrição com validação automatizada de controle de domínio. O melhor de tudo, nossos certificados SSL estão entre os mais acessíveis da indústria. Nós mantemos nossos custos baixos e passamos as economias para você.

GeoTrust True BusinessID

Quando se trata de selecionar a segurança SSL para o seu negócio, você tem muitas opções. Com a GeoTrust, a decisão é fácil. Os certificados SSL da True BusinessID da GeoTrust® permitem que seus clientes saibam que seu site é confiável e que você leva sua segurança suficientemente a sério para obter seu certificado de uma autoridade de certificação globalmente confiável.

GeoTrust True Business ID com EV

Faça uma forte declaração de segurança com a barra de endereço verde. GeoTrust® True BusinessID com EV (Validação Extendida) é o nosso produto de segurança SSL premium de classe empresarial, confirmando visualmente o mais alto nível de autenticação disponível entre os certificados SSL. A barra verde diz tudo. Os visitantes do site realmente percebem quando a barra de endereços se torna verde em seus navegadores de alta segurança e o campo de organização começa a girar entre o nome da sua empresa e a GeoTrust.

from
R$ 1.200,00 Reais/yr
What is an SSL Certificate?
SSL Certificates enable data encryption on the internet and allow data to be transmitted securely from a web server to a browser. With SSL, your website can use the https protocol and will display a padlock in end users web browsers to indicate the connection is secure.
Why do I need an SSL Certificate?
SSL Certificates are an essential part of the internet. They not only encrypt communication between your computer and the server where a website is located, but they also provide verification that a site is what it claims to be.
What are the different types of SSL?
There are 3 different levels of vetting that SSL Certificates are based upon. Domain Validated (DV) , Organization Validated (OV), and Extended Validation (EV). The major difference between the types of certificate relates to the information the Certificate Authority, RapidSSL, GeoTrust and Symantec, requires and validates in order to issue a certificate. The higher levels of certificate require more information, and often is displayed in the browser bar. EV SSL for example turns the browser bar green and displays the organization name to visitors to generate more trust.
What are the advantages of an EV SSL Certificate?
EV, or Extended Validation, is the highest class of SSL available today and gives more credibility and trust to your website than other SSL Certificates. They include features such as the green address bar and display of your company name that have been proven to boost trust and consumer confidence.
What if I already have an SSL Certificate?
You can switch to us at any time. We offer highly competitive pricing and if you already have an existing certificate, we'll add any remaining validity that you have on your existing competitor SSL Certificate up to a maximum of an additional 12 months. Learn more
Our SSL certificates are from some of the most trusted brands in Online Security.